In honour of the release of Avengers: Infinity War, here is a piece I wrote about Black Panther for my Multimedia Journalism class. Enjoy!
(PS. I got a 95% on the assignment!)
(PPS. Yay!)
---
A child gleefully munches on a pre-movie snack, his skin as dark and rich as the chocolate bar he enjoys. In front of him sits a group of college students, their red and blue shoes matching the colours of their turbans. They furiously debate predictions about who will make a cameo appearance in the post-credit scene. Several rows above them, a trio of siblings loudly test their trivia knowledge, playing along with the interactive theatre game. Beside them, an elderly white couple fidget in their rundown red chairs – it is unclear whether their discomfort is a result of the worn-out movie seats, or perhaps, something else.
This mosaic of culture has come together for the opening night of Black Panther. And while they enter the theatre separately, a random collection of individuals, they leave as members of a unified tribe.
Last month's release of Black Panther was historic. Universally acclaimed, critics laud Marvel's latest superhero film, scoring it a 96% Certified Fresh Rating on Rotten Tomatoes. Having shattered cinematic expectations, the box office numbers are as equally impressive, with Black Panther achieving the second-highest four-day domestic opening gross of all-time. With the talented Ryan Coogler at its helm, Black Panther is quickly becoming the most successful movie directed by an African-American. As of April 9th, Black Panther is the 10th highest-grossing movie of all-time.
And yet, numbers do not accurately portray the extent of the film's success.
The latest icon of the Disney juggernaut, King T'Challa, is a superhero unlike his predecessors. Featuring an predominantly black cast, Black Panther represents a seismic shift towards diversity and awareness in a field historically criticized for its inaccurate and offensive portrayals of stereotypes and race.
Costumes and make up are inspired by traditional cultural African garb. Characters speak proudly in accents devoid of white-washing. Ceremonies pay homage to traditions of native tribal customs. The soundtrack is produced by Kendrick Lamar, one of music's most preeminent black artists. Three years removed from the controversy of #OscarsSoWhite, Hollywood seems to be progressing forward.
Ruler of the fictional African nation of Wakanda, T'Challa struggles amid tradition and modernization: an apt portrayal of the world's current geo-political landscape. Torn between continuing Wakanda's historical isolationism and a responsibility to provide aid for those in need, audiences sympathize with the difficulties of reconciling differing views of the world.
This theme is furthered by the film's antagonist, Erik Killmonger. A mercenary radicalized by the treatment of blacks in America, Killmonger's vision – though violent and rash – is rooted in justifiable, albeit controversial, thinking.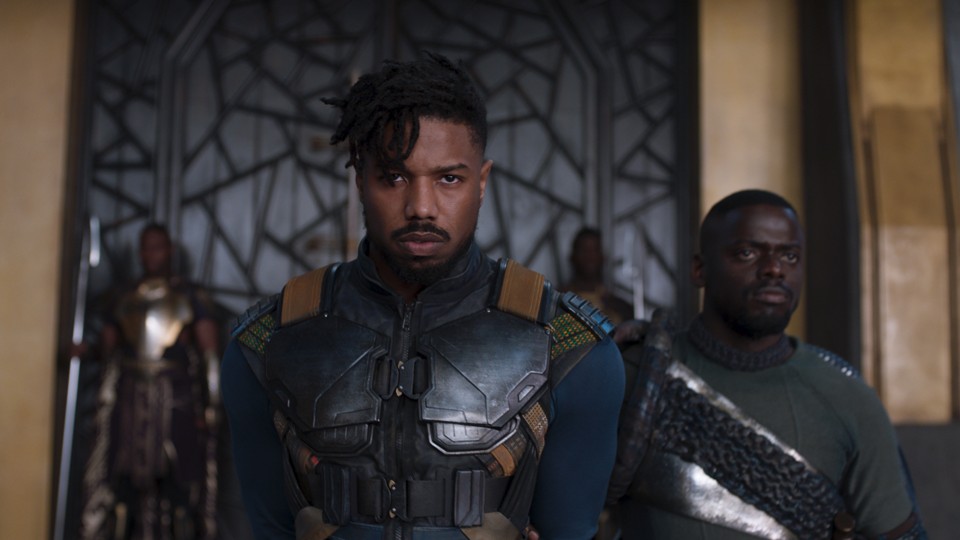 "Bury me in the ocean with my ancestors who jumped from the ships, because they knew death was better than bondage."
After hearing Killmonger's final words, some viewers were left squirming in their seats; others standing in dignified applause. One of several poignant and powerful lines throughout the movie, Black Panther attempts to elicit some form of audience reaction. Whether the response is shock, shame, or pride, by showing some sort of emotional response, the viewer has become part of the movie's larger conversation.
Therein lies an irony how a fictional character helps to reveal the truth in people.
Click To Tweet
Back in the movie theatre, the bickering college students sit silent and awe-struck, mouths agape. The siblings raise their fists in solidarity. The elderly couple stare nervously into the ground. It is easy to maintain pleasantries and avoid sensitive topics such as race. But Black Panther manages to tackle these issues and encourage open dialogue between each and every viewer.
And as uncomfortable as they may be, difficult conversations must be had, in order to further the discussion.
Congrats to the entire #blackpanther team! Because of you, young people will finally see superheroes that look like them on the big screen. I loved this movie and I know it will inspire people of all backgrounds to dig deep and find the courage to be heroes of their own stories.

— Michelle Obama (@MichelleObama) February 19, 2018
Fortunately, many people have taken it upon themselves to start the dialogue. Through support from celebrities such as Viola Davis and J.J. Abrams, as well as local community groups, thousands of dollars have been raised towards providing youth with the opportunity to see Black Panther. Children of colour now have the chance to idolize a superhero that looks like them. Young girls may be motivated to pursue science and technology just like Shuri, T'Challa's younger sister who also happens to be the smartest character in the Marvel Universe. Others may be moved to learn more about their own heritage and culture. Therein lies an irony how a fictional character helps to reveal the truth in people.
As the film comes to a close and the end credits roll, a palpable buzz is in the air. Though the snacking child may not understand it quite yet, seeing a black superhero will prove to be more satisfying than any chocolate bar. The college students now argue the best parts of the movie. Reciting their favourite quotes, the siblings exchange their new knowledge. And though the elderly couple may still feel uneasy, they are now aware that it is a necessary discomfort.
Because when others understand that bondage is worse than death, the grip of the chains start to loosen.