The #1 seeded Raptors are in the midst of their best season in franchise history. The Maple Leafs are a young, talented team with an extremely bright future. The Blue Jays are playing great baseball and are looking primed to play in October, once again. Toronto FC are the reigning MLS Champions and a CONCACAF Champions League finalist.
It has never been a better time to be a Toronto sports fan.
Even as one of North America's largest media markets, Toronto franchises have often been overlooked and underestimated. With the run of recent success, the hardcore sports culture and rabid fans of the 6ix are finally receiving the recognition and exposure they deserve.

With Toronto sports the hottest it has ever been, I decided to take the discussion directly to the people. Here is a roundtable discussion I had with several friends who all share a love for Toronto sports. Talk to 'Em!

(If you missed it, take a couple seconds to read the introduction to my Talk to 'Em series).
---
JZ: Welcome to the first (of hopefully many) Talk to 'Em Roundtable! My amazing friends, and sports fans, for this group chat are: Raphael Padolina (@r_pad96), Michal Stankiewicz (TFC: True Fans Chat), Angelo Mangosing (@pingufriendship), and Stephanie Frances (@stephfrances). How's everyone doing today?
*A garble of responses said at the same time*
JZ: Roundtable Lesson 1: Ask questions one at a time.
Okay … let's start these introductions over. But instead of giving lame, generic, "about me's", how about we go around and everyone names the Toronto player they most closely relate to. I'll start.
Jose Calderon. Loyal. Smart. Puts the team first. Great vision. Really likes meat.
Raph: Definitely Bruno Caboclo. Potential is through the roof, but the circumstances at the time (no Mississauga team to flex on for Bruno, no JZ blog to contribute to), led to talents not being fully realized. His struggle with learning the English language also resonates with me: I can barely string cohesive sentences together, which is why this article took longer to write than George R.R. Martin's next book.
Michal: Tough questions right off the bat, eh? I'm going to go with Chris Mavinga. I'm a bit taller than him but I can relate to his defensive style. His slides takes are fun to watch and come out of nowhere. That's kind of how I like to play. Get those longs legs involved. Also, I think he is a Christian, so that's another relation.
Angelo: OG Anunoby. Quiet but gets the job done. He's new to the league but he doesn't have that rookie demeanor. Mature right from the get-go and knows what to do.
Steph: Delon Wright. Needs to be encouraged to take the shot sometimes, but always comes through when it matters most. Laid-back demeanor, but is most likely internally screaming like Delon and that goat in the Juicy Fruit commercial.
JZ: With the formalities out of the way, let's dive head first.
Most memorable Toronto sports moment of all-time?
Raph: There are so many moments to choose from, but I'll confine myself to picking from moments I was actually around for and can thus actually remember. With that being said, the Toronto sports scene has not been the brightest for most of my life. The last few years have really seen a revival in Toronto's success, and with it some truly amazing moments. I have to go with Jose Bautista's Herculean home run and follow-up bat flip in Game 5 of the 2015 ALDS against Texas. The stakes were sky-high, but his bat surpassed them on its way to Mars.
Man, I can remember exactly where I was in that exact moment – actually, I was in several places, screaming with euphoria in my mortal body in Toronto as my soul ascended with Joey Bats' bat up to heaven.
Michal: The moments that are more memorable for me are the ones that I got to witness in person. Game 1 of the 2016 NBA playoffs against Miami Heat. Raptors were down by three points with very little left on the clock. From where I was sitting many people were leaving. And out of nowhere Lowry goes for a 'Hail Mary' half-court shot and it goes in. People went insane! I went insane. I've never jumped up and down so much in my life. And I don't even watch basketball. Raptors lost in OT, but what a buzzer beater. I will remember that forever, that was insane.
Angelo: It's gotta be last year's Toronto FC championship win against Seattle. Why? It's the city's most recent trophy across all major sports leagues and the one I cared about the most. Last year's loss against the Sounders left a void in my heart especially since we lost in the worst way possible – penalties.
Winning not only the championship, but the TREBLE, showed all of Toronto what the team is capable of and what soccer in Toronto can mean in the long term.
Steph: Of all-time? Probably Joe Carter's three-run walk-off home run against the Philadelphia Phillies, which gave the Blue Jays their second consecutive World Series win. Even if this Toronto sports moment is before our time, the fact that Drake used the iconic image of Joe Carter celebrating the victory as cover art in his 2015 feud with Meek Mill reinforces the moment's impact on Toronto culture.
However, I can see Jose Bautista's bat flip being a modern-day equivalent for Jays fans. Maybe it's a toss up! (It's probably not a toss up, I just wanted to poorly attempt a bat-throwing pun.)
JZ: Personally, mine has to be Norman Powell's series shifting dunk. Might be my emotional peak as a sports fan. Next:
Favourite Toronto player?
Raph: Jose Bautista. I can think of almost no other player in any other sport who has stepped up at perceived disrespect with big moments as much as Joey Bats. Youtube is full of clips of pitchers throwing at him, only to have him respond with a four-bagger and a look of absolute disgust on his face as he circles his inferior opponent. (Seriously, his chip-on-my-shoulder home run gaze probably ties with DeMar DeRozan's stank face after every monster dunk as my favourite expression in sports).
Also, he kinda had this one hit against Texas that made all of Toronto sorta happy (see above).
Michal: I am mainly a TFC fan, so I will have to go with Sebastian Giovinco. I know that's kind of a cliché pick, but some of his free kicks are marvelous. I remember this one game at Atlanta last season which had probably 70,000 fans in the stadium, TFC were down 2-1, and Giovinco slotted a beautiful top corner free kick to draw level. The fans were silent. It's those moments that make me love Seba more and more. Add the beer drinking taunt for good measure!
Angelo: DeMar DeRozan. He's got us. Need I say more?
DeMar to take the lead!#WeTheNorth pic.twitter.com/5wcaG6u4fJ

— NBA (@NBA) March 8, 2018
Steph: It's DeMar DeRozan for me too. Whether he's lowkey improving his three-point game on the court, or opening up about his struggles with depression off of it, I feel like DeMar DeRozan is the epitome of quiet strength. The fact that he lived up to that 2010 post-Bosh tweet is absolutely incredible because — let's be real — if I stuck by any of my 2010 tweets, I would probably still be stanning the Jonas Brothers. (Just kidding.)
JZ: Before this recent run of success, Toronto franchises has been historically plagued with some terrible years and awful management, breeding a culture of anxiety and disappointment.
What was the most heartbreaking time for Toronto sports in your life? 
This can come down to a singular moment, a stretch of games, or even a whole year's worth of sadness.
Raph: This question is like asking a Game of Thrones aficionado (present!) which of the countless deaths resonated with them the most – too many heartbreaks to count!
However, one does stand head and shoulders above the rest: the epic Leafs' collapse in Game 7 of the 2013 Stanley Cup playoffs. The Leafs came all the way back from a 3-1 series deficit to force a Game 7 against hated rival Boston and were 10 minutes away from winning the pivotal matchup by a score of 4-1, before surrendering 3 goals in that last 10 minutes and eventually losing in overtime. 5 years removed from the defining traumatic sports experience of my life, writing this still brings tears to my eyes.
Michal: MLS Cup Final 2016. I was able to watch part of the game on TV. Most of extra time I was listening on the radio while in a car. Later, I found myself waiting for the TTC to pull-in without even knowing whether or not TFC won (I don't have data). I only knew we were in penalty kicks. I go to one of those TTC info monitors which has news headlines, and read, "Seattle defeats Toronto FC in MLS Cup Final …"
That was tough. All that work during the season, and falling in the finals? That was the year to win it.
Angelo: The most heartbreaking moment was the loss against the Sounders in 2016 during the MLS Cup Championship game. Tell me what's worse in your opinion: a loss after a hard-fought battle after 90 minutes or a loss based on lucky penalties?
I'd rather lose in the way of the former. Wouldn't you?
Steph: The Bruins eliminating the Leafs in Game 7 in 2013 was truly a heartbreaking time for Toronto sports. I don't think I fully recovered or trusted a Leafs game ever since. If the Leafs were up 25-0 today in the third period, I would still be like "Ok, cool, but remember on May 13th, 2013 when…"
Equally heartbreaking was the Leafs' most recent 7-4 loss to the Bruins in Game 7 following yet another potential comeback from a 3-1 deficit in the First Round series. A perfect moment for the Leafs to redeem themselves from that 2013 blunder sadly resulted in history somewhat repeating itself. Excuse me as I quietly sob while listening to Drake's 'Redemption'.

JZ: I'm slightly offended that no one mentioned Vince Carter missing a potential game winner in the 2001 playoffs. I guess we were all relatively young, but I still vividly remember that moment. That was my first of many Toronto heartbreaks.
Let's talk current sports.
Does TFC repeat as MLS champions?
Raph: Confession: I'm not as up-to-date on MLS as my esteemed colleagues, so I will leave the analysis to them. However, I know that TFC has arguably the greatest MLS player of all-time in Giovinco, and a championship team returning most of its key players, so a repeat performance looks to be a strong possibility.
Michal: They can, they definitely can. It is going to be harder than last year just because you have an expansion team joining the league and teams are getting younger and better. Many clubs are bringing in young South American players and changing to an attacking style of play. Atlanta, New York City have improved. But yes, I think TFC can repeat and they will. Most of their new signings are fitting in well.
Angelo: I definitely think so. We have the talent and depth to play in all competitions (CONCACAF Champions League, MLS, and Canadian Championship).
With the signings of Gregory van der Wiel, Ager Aketxe, Auro Jr. and a few homegrown talents, we're positioned pretty well as long as we start winning games and climb the Eastern Conference standings once the Champions League is over. We desperately need the first team back from CCL contests because the second team hasn't pulled up their socks to get the team any points in the MLS and if we are to repeat, we first need to reach the playoffs.
Steph: I hope so! I was downtown for the MLS Cup Championship Parade, and it was definitely a surreal and remarkable experience to see a cup hoisted in our city — so a repeat would be great! But I know that Atlanta United poses a threat, and I personally don't put anything past Ibrahimovic joining LA Galaxy. He terrifies me in any capacity.
JZ: With the Leafs losing a heartbreaking Game 7 … 
How will the Raptors fair in the 2018 playoffs?
Raph: The Raps are a completely different team from the playoff busts of past years, with superior ball movement and a plethora of scoring options replacing the iso ball that our opponents exploited so much before. The bane of their existence (well, the bane of the entire league except for the Warriors), Lebron is navigating this year's edition of the playoffs with his weakest team since 2008. The stars look to have aligned perfectly for this year's squad of Dinos, who should make it to the Finals. However, I do believe that whoever comes out of the West – either the Dubs or Rockets – will be too much to handle, and will prevent the Raps from claiming their first ever championship.
Michal: I haven't been following them all season but it seems like they are doing well seeing that they clinched 1st seed. I remember them being good the past few years and so they must be even better now. I can see them going to the NBA finals. But Golden State is crazy good, so I think Raptors lose in the Finals.
Angelo: Raps in 6 for every round they play. They just beat Washington in 6 games, now they're down two games to the Cavs. This is the hardest they've played against them in history so I'm optimistic about our chances this time around. Can't wait to strap in for the emotional roller coaster we're about to go on! (OK, not really but this is what you get for being a Toronto sports fan.)
Steph: All I know is: THE CAVS WILL NOT SWEEP THE RAPTORS! (I'm looking at you, Skip Bayless!) Disclaimer: I really hope my response ages well.
JZ: I am so very terrified about Game 3 tonight. Let's get my mind off it …
Predict the Blue Jays' season.
Raph: The Jays started strong this year, but they are in arguably the toughest division in all of baseball and have too many holes on the roster to make the playoffs. I believe that they will hang around the Wild Card discussion up until the Trade Deadline, when they sell off veterans and soon-to-be Free Agents for prospect capital and a larger number in the loss column in their attempt to rebuild on the fly.
Michal: Unlike Raph, I don't follow the Blue Jays at all, but I would predict that they will not make the playoffs. Why? Because most MLB teams don't, so the odds are in my favour. Also, it wouldn't be Toronto if one of their teams didn't flop.
Angelo: Given how the young guns in the Jays roster have been playing and getting wins, I think we're in a decent spot to compete for a wild card position in the postseason. The Orioles and Rays aren't in a position to compete at this point (but the season is long) so I think is fair to say that the Wild Card is ours for the taking.
Steph: Although it'll be an uphill battle for the Jays, I nevertheless believe that they'll make it to the American League Championship Series. Wishful thinking? Probably, but I can't help but feel constant paranoia about the Jays' window — or, should I say, retractable roof — closing. (Get it? Retractable roof? Rogers Centre? Alright, I should probably stop masking my Toronto sports sadness with bad puns.)

JZ: Everyone loves the all-time greats.
Name your Mount Rushmore of Toronto sports legends.
Michal: I'll make this diverse and go with one legend for each of the main sports. Because let's not kid ourselves, Toronto Maple Leafs legends could fill 10 Mount Rushmores. When I look for a "legend", I look for someone who catches the eyes of those that don't follow the sport but still recognize the name.
Ok, for basketball I'm going with Vince Carter. For baseball, I'm sure someone from the Blue Jays 1992 squad would be a legend, but I don't recall their names so my legend will be the living legend, José Bautista. While searching how to spell his name, I found out he signed with the Braves… Oh well. Still a bat-flippin' legend. Technically Dwayne de Rosario is TFC's biggest legend, but no one doubts that Sebastian Giovinco has already claimed that spot once his time with TFC is over. So I'll list him as the TFC (living) legend. As for the Maple Leafs, man, take your pick. 100+ years is too much for a guy like me to comb through and pick the ultimate legend. But let's go with Johnny Bower.
Raph: I definitely agree with Michal on this one – Toronto's sports history is so rich that one could make arguments for 100 different Mount Rushmores. I'm composing a mostly contemporary list because I haven't completed my PhD in ancient Toronto sports history yet, and just like Michal, I'll give a name from each of our major teams: Vince Carter for the Raptors, Mats Sundin for the Leafs, Jose Bautista for the Blue Jays, and Sebastian Giovinco for Toronto FC.
Angelo: Vince Carter (he's half man, half amazing, AND he's 40 years old so he counts as a legend right?), half Roberto Alomar/half Joe Carter, Dwayne De Rosario and Mats Sundin.
VC put Toronto on the map as a basketball city, Alomar and Carter won us a couple banners at the *Skydome*, De Rosario is Scarborough's finest and TFC's most recognizable legend and Mats, well, he was kind of a big deal when I was growing up and "SUNDIN SCORES", was all I would hear when the Leafs were playing on TV.
Steph: Since Mount Rushmore is a historic landmark, I would select one athlete from each Toronto team who I (subjectively) believe played a significant role and was an important household name to the franchise's early history or first impactful moment, so to speak.
With that being said, I choose: Dave Keon for the Leafs, Dwayne De Rosario for TFC, Vince Carter for the Raptors, and Joe Carter for the Blue Jays — but shoutouts to Dave Stieb and Roberto Alomar!
Side note: How awesome would it be if we had two more legends named "Carter" to replace Keon and De Rosario, simply for namesake? Our Toronto Mount Rushmore would pretty much be 'Tha Carter IV'.
JZ: My Mount Rushmore for people who have participated in a Talk to 'Em Roundtable: Raph, Michal, Angelo, and Steph.
To continue: 
What signing, trade, or move in the past 30 years would you erase from Toronto sports history? How does this alter the historical timeline?
Raph: Again, there are many bonehead front office decisions to choose from, but I want to pick one that did not look overtly foolish initially, yet continues to vex Toronto both directly and indirectly.
The Toronto Maple Leafs acquired former Calder Trophy winner Andrew Raycroft to fortify their goaltending situation in 2006. However, there were a few problems with this move: for one, Raycroft won the NHL's top prize for rookies back in 2004, and he suffered through a terrible year as Boston's third-string tendy right before Toronto traded for him. What pushes this over the edge as catastrophic for Toronto is the piece they gave up for Raycroft: a Finnish goalie prospect named Tuukka Rask. The Leafs put their faith in fellow goaltending prospect Justin Pogge as their netminder of the future, and thus saw Rask as expendable.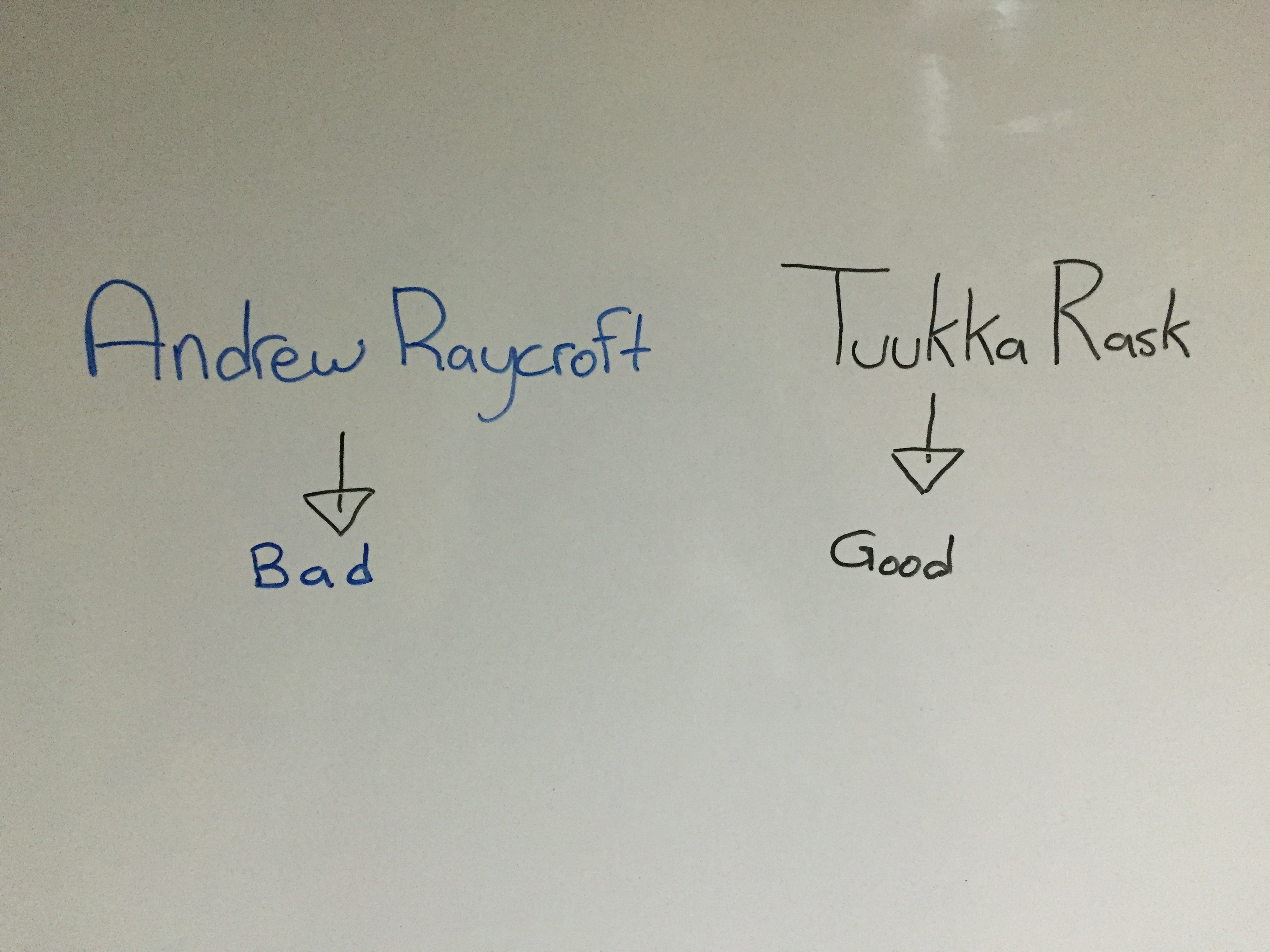 Fast forward to today: Raycroft put up mediocre to terrible numbers in 2 years in Toronto before being bought out, Pogge did not pan out as expected and played a total of 7 games for the Leafs, and Rask developed into one of the best goalies in the league, helping the Bruins to a Stanley Cup in 2011 and backstopping them to another Finals appearance in 2013. If the Leafs held onto Rask, it's not a stretch to think they would've emerged as contenders much sooner, and avoid the heartbreak of a Game 7 with Rask celebrating on the other side.
Michal: If I recall, Raph, the Leafs also tried many other goaltenders with bad results. Toskala, Giguere, Reimer, Bernier, Scrivens, Gustavsson. Some of those names are probably in the good books for TML fans but man, it's tough being the goaltender for a club like the Leafs. Lots of pressure.
Angelo: The Vince Carter trade. Hands down. Who did we get in return for a quintessential all-star and a hall-of-famer in the making? Exactly.
Had Babcock not pulled the trigger in trading Vince to our division rivals at the time, Raptors Franchise history may have looked a lot different. Demar or Kyle or Serge or JV wouldn't be household names. Heck, Masai wouldn't have been a Raptors president had Babcock not agreed to accept probably the worst NBA 2K-style trade I've ever seen in Toronto sports.
Steph: The timelines of TFC signing and trading Jermain Defoe and the Raptors signing and trading Rudy Gay felt too short-lived — like those relationships that you share all over social media only to break up shortly after. You realize there were important lessons in those short-lived relationships, but you're slightly embarrassed about how hype you were about them publicly.
Example: I was at Rudy Gay's first game in Toronto and had proudly taped his number over an old Raptors jersey. (Embarrassing.) I'm also pretty sure that Don Draper would have scoffed at TFC's "It's a bloody big deal" ad campaign for Defoe.
Don't get me wrong, I know that both trades were crucial to their respective franchise's historical timelines, given the fact that both TFC and the Raptors flourished following Defoe and Gay's departure. Nevertheless, those signings still seemed a little pointless in hindsight, but I was probably just disappointed that they didn't work out.
TL;DR: Amir Johnson! I miss Amir Johnson.
JZ: Two words: Andrea. Bargnani.
Let's move from sinking ships to championships.
With TFC claiming the MLS Cup last year, which of the other major Toronto franchises (Leafs, Raptors, Blue Jays) will be next to win the big one?
Raph: I have to go with the Leafs on this one. The Leafs core is dynamic and only getting better with experience, and they've been succeeding all year without a bona fide top pairing defenceman to help blueline stud Morgan Rielly. The Raptors are a championship calibre squad, but I just don't see them taking out the superteams of the West (please prove me wrong Dinos!). The Jays are in a transitionary period – they're not undergoing a full teardown and rebuild, but they have a couple of exciting young players who should be ready to go on another postseason run in a few years.
Michal: Probably Raptors. 1st seed in the East, expectations are to win the Finals, are they not? The Leafs are better than before but the playoffs are always a different ball-game.
Angelo: I'm on a Raptors-high right now so I'm in love with the idea of the Raptors hoisting the Larry O'Brien trophy. We've got the talent to go all the way this year but first we've got to get rid of one of our playoffs ghosts that's been haunting us (ahem, LeBron).
Steph: I also want to say the Raptors while completely ignoring the unconscious part of me — perhaps the unconscious part of many of us — that repeatedly whispers "It's LeBron's world, and you're just in it" all day, every day.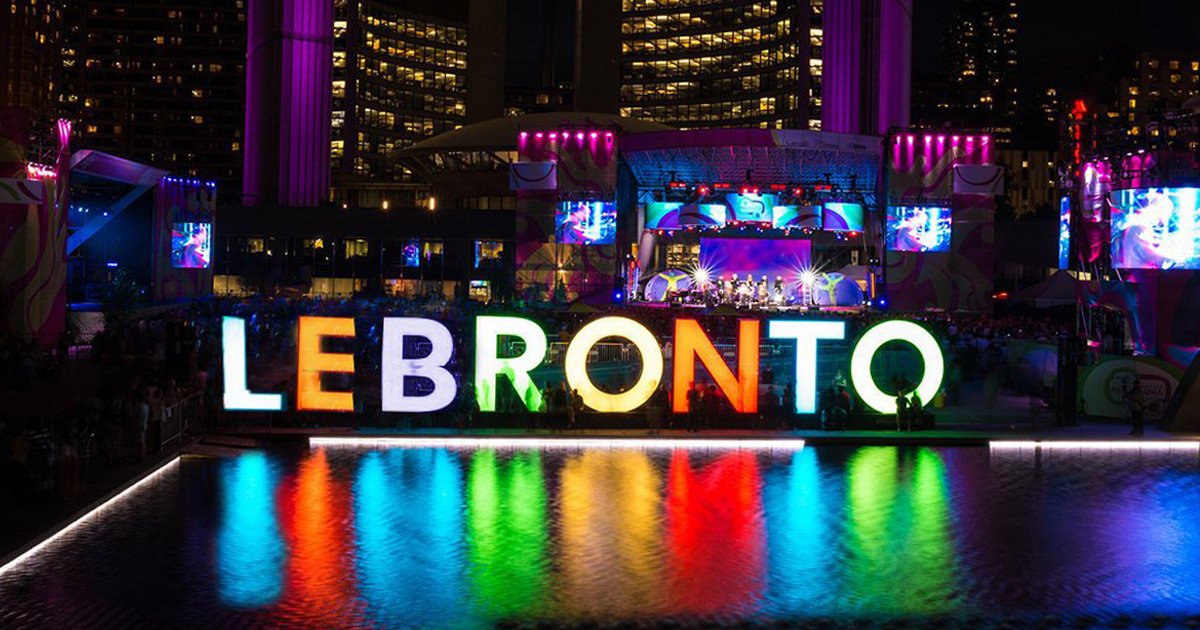 JZ: In the darkest possible timeline imaginable, picture yourself not growing up in or around Toronto.
What other city and their sports franchises would you pledge fandom allegiance to?
Raph: Wow, this question is darker than the end of Avengers: Infinity War (if you're mad at me for this semi-not-really spoiler, stop for a second and ask yourself why you haven't yet seen this smorgasbord of emotions that can loosely be described as a movie).
If my soul was booted out of sports Nirvana and I had to pledge allegiance to another city, I think I'd go with Chicago. The Windy City is very relatable with regard to long championship droughts and a bevy of losing seasons – heck, the Cubs were known as the Loveable Losers for the longest time. Chicago's sports history is also very rich: they lay claim to one of the greatest basketball teams of all time with the '95-96 Bulls, the Blackhawks are an Original Six NHL team, and the Cubs and Bears are two of the oldest sports franchises in North America.
Michal: This is a funny question.
Full disclosure, I'm actually a Colorado Avalanche fan, although I am sympathetic towards the Leafs. It's a long story. So, without even thinking twice, my answer would be Denver, Colorado. I rooted for the Broncos in the Super Bowl.
Angelo: I'll come clean like Michal did, growing up as an NBA fan, ironically I've had an interest in a team not named the Raptors (I have a collection of LeBron's Cavs since being drafted in 2003). I give permission for people to throw a chicken wing at me if the Raptors end up like the real ones after the 2nd round (I'll gladly eat it too. Sorry not sorry).
Steph: I cannot mentally process this timeline — sorry!
JZ: Sorry boys, but Steph had the correct answer.
However, there's no right answer for this next one:
Not limiting yourself to sports, name your starting five of Toronto icons and personalities.
Raph: Drake (too many Toronto references to list here), Jack Armstrong (GET THAT GAHBAHJ OUTTA HEYAAA), Joe Bowen (HOLY MACKINAW), Buck Martinez (GOING, GOING GONNNNNNNNNNNNNNE) make up the first 4.
I had to cheat for the last one because it's a duo: Watch the Iron Throne, consisting of JZ Agtarap and the guy who JZ has to carry all the time because his bars just aren't as ill, Kanye East (aka Raph P from Scarborough)
Michal: JZ Agtarap, Drake, Carlton, Rob Ford, & Bitchy the Hawk. Now that's some diversity right there. I just crossed the realm of animals and realism. Dang…
Angelo: Drake, Cabbie, Masai Ujiri, Norm Kelly (Lil B too then?), Buck Martinez.
Steph: (Don't say Drake. Don't say Drake.)
Drake (sigh), Jack Armstrong (HELLO!), Lily Singh, Raptors Superfan Nav Bhatia, and Kardinal Offishall. *"Everyday (Rudebwoy)" gently fades in from background*

Honourable mention: Mike Myers and alternate universe Kanye West:
JZ: To be mentioned in the same sentence as Drake and Rob Ford? Guuuuuys! I'm flattered.
My Toronto Rushmore is: Drake, Norm Kelly, Ed Mirvish, Rob Ford, and Oliver the Jewellery Buyer.
Lastly, describe Toronto sports using a meme.
Raph:
Michal:
Angelo:
Steph:
JZ:  LMAO. I think that is the perfect way to conclude this roundtable.
Thank you to all four of my contributors for participating. Once again, here they are: Raphael Padolina (@r_pad96), Michal Stankiewicz (TFC: True Fans Chat), Angelo Mangosing (@pingufriendship), and Stephanie Frances (@stephfrances). Follow them up; they're awesome!
I hope everyone enjoyed the inaugural "Talk to 'Em" roundtable! To all my Toronto sports dreamers, keep on dreamin' – I know I am!