Pop quiz! Who is the title of this week's post referring to?

If you answered: Ariana Grande, you are correct!
However, if you answered: Jozef Agtarap … you are also … correct?

---
People with Birthdays in mid-January

A bunch of likeable people had birthdays this past week in January.

Here is a list of some recent birthday celebrants, ranked in ascending order of importance and awesomeness.

Dave Bautista (turned 50)
Rasputin (would have been 140)
Dolly Parton (turned 73)
A.A. Milne (would have been 137)
Jason Segel (turned 39)
Hikaru Utada (turned 36)
Hakeem Olajuwon (turned 56)
James Earl Jones (turned 88)
Al Capone (would have been 120)
Dwyane Wade (turned 37)
Edgar Allen Poe (would have been 210)
Benjamin Franklin (would have been hella old)
Michelle Obama (turned 55)
Sam Cooke (would have been 88)
Muhammad Ali (would have been 77)
Rallie Agtarap (turned INFORMATION REDACTED)
Ray J (turned 38)
From artists to athletes to political figures, for some reason, mid-January seems to be prime time for birthing icons and historical figures.

(Note to future self: Listen to this playlist throughout all of April 2024)

(Note to current self: That's only 5 years from now)

(Note to current self: … HOLY SHIT)

ANYWAYS.

Among the recent birthdays celebrations, perhaps the most somber one was Mac Miller's, who would have been 27 on January 19.

(Note to current self: That's only 3 years older than you are. Holy shit.)

From frat-rap mixtapes to a Grammy nomination, watching Mac evolve into a true musical artist was wonderful to behold.
Unfortunately, this steady career evolution makes his early demise even more painful, a feeling of incompleteness lingering about.

The Ringer tackled this idea during their tribute week, but it was the next article (re-released on Mac's birthday), that I really, really liked …

The Magnetic Charm of Mac Miller
Published on The Ringer and written by Rembert Browne, this article details Browne's personal relationship with Mac, and their particular encounter with former NBA Rookie of the Year, Karl Anthony Towns.

The most talented writers are able to make ordinary events seem extraordinary, and extraordinary events feel ordinary. The ability to captivate and relate are indispensable tools in the arsenal of any storyteller.

In this case, Browne takes a pretty remarkable event – hanging out in a famous rapper's mansion, alongside an NBA superstar – and makes it seem commonplace, as if anyone off the street could stumble into a multi-million dollar LA house and feel comfortable interacting with celebrities.
Memorials or tributes can often be difficult to read.
In this instance, Browne is simply telling the story of his friend Malcolm. It was a story that needed to be told, but more importantly, a story he needed to tell.

People Who Message You Immediately When Something New Comes Out
When someone shares something with you that means:
(1) They saw something.
(2) It reminded them of you.
(3) They thought you might enjoy it.
(4) They made the effort to reach out to you.
DO NOT TAKE THESE PEOPLE FOR GRANTED. I REPEAT. DO NOT TAKE THESE PEOPLE FOR GRANTED.

Whether it's wrestling-related news (Hi Albert!), or Raptors-related news (Hi Fred!), or Instagram-related news (Hi Lucas!), or anything-related news (Hi Taz!) … I like seeing that message notification.

A little past midnight on January 18, I was well into my third re-watch of that week's episode of Brooklyn Nine-Nine.

My phone suddenly buzzed. It was messages telling me to listen to the new Ariana Grande song that just got released. (Hi Zara! Hi Clarise!).

I listened to it.

And it happens to be the final thing I like from this week …

7 rings
"Breakfast at Tiffany's and bottles of bubbles."

An Ariana Grande line from a song called "7 rings", sang to the tune of Favourite Things from Sound of Music that references Audrey Hepburn's classic movie, Breakfast at Tiffany, as well as sweet-tasting alcohol?

I literally can't think of anything more Zara than this.

And because of that, I've decided to bring my little sister on to discuss Ari's newest single:

---
Jozef: Whaddup Zara. Thanks for agreeing to write in this week's post.

Zara: no problem! i'm in class right now so i got time to talk.

JZ: I'll never understand how Agtaraps manage to get good grades. Also, are we really going with this all-lowercase style? You know how meticulous I am with words.

ZA: yes, lowercase always. it's for the aesthetic.
JZ: You know what, since all the song titles from "Sweetener" are lowercase … I'll let it slide.

ZA: i did it way before "Sweetener", just saying.

JZ: First and foremost, let's establish your credibility as an Ariana fan.

ZA: well, before pete davidson and big sean, i used to be all about jai brooks and robbie shapiro.

JZ: CAT AND ROBBIE 4 LYFE.

ZA: i followed Ari back when she used to do weekly follow sprees (still salty that she follows you on Twitter and not me).
JZ:
Guess I'm the realer fan.
ZA: i've been to every one of her Toronto concerts; in fact, hers was the first concert i've ever been to – the 2013 "pre-Yours Truly" Listening Sessions (before the Sound Academy turned into Rebel).

JZ: I can attest to that.
ZA: i've waited around for the drops of "Put Your Hearts Up" to "7 rings" and everything in between.

JZ: Okay. Maybe you're the realer fan.

ZA: haha thank you for finally admitting that.
JZ: Now that readers know that you're a true Ariana follower, let's get down to business. On the scale of "Focus" to "Almost Is Never Enough" …

ZA: "Better Left Unsaid" to "get well soon" …

JZ: "the light is coming" to "Moonlight" …

ZA: "Problem" to "Cadillac Song" …

JZ: Yup, you get the point. Where does "7 rings" rank in Ariana's discography?

ZA: Sound of Music verses, trap beats, and a "Gimme the Loot" reference. Ariana Grande PLUS nods to musicals and Biggie?? yeah, i'd say it ranks pretty well in my book.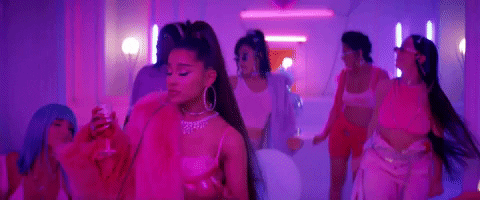 JZ: Woah. Did you just use a word in only uppercase letters? That's how you know you like a song.

ZA: all-caps is the best way to express emotion.

JZ: Well in that case … I can't even lie, the song is a BOP. It ranks comfortably in the mid-upper echelon of Ariana songs – right below the top-tier, elite level tracks.

ZA: this song, the video, an all around BOP. in terms of her recent releases, i actually like "imagine" better but this still ranks pretty high. either way, i'm excited for her new album to drop soon.

JZ: Going back to your first remarks, I love how you mentioned the Biggie line. That goes perfectly into my next question: what was your favourite part of "7 rings"? Mine was hearing her "Gimme the Loot" bar.

ZA: i really liked that part too, it had that typical trap song flow but it was still good!

JZ: From Mac Miller's passing, to her UK concert bombings, to her broken off engagement, Ari has gone through some tragic experiences. Yet, rather than wallowing in her emotions, she has gone the complete opposite direction, choosing to flex on her haters instead. I like this decision.
ZA: me too! It's great when artists can channel their energy into their work, especially when it's promoting things like self-love and empowerment.
JZ: And Ari comes with some HEAT on this track.

ZA: she bad bad, you know?
JZ: Oh, I know. And you know what might be fun? Trying to figure out what the most savage line of "7 rings" is.
ZA: she definitely has a bunch of dope lines in the song but first, we should define what a savage line sounds like.
JZ: Yes! A savage line must be obviously braggadocious …
ZA: … but it has to feel natural, as if the brag is a fact. cool people don't have to pretend they're cool, they just are.

JZ: Yup. So that eliminates the line, "I don't mean to brag, but I be like, 'Put it in the bag'" … because once you say "I don't mean to brag", it is quite clear you're trying to brag.

ZA: exactly! but then, does a savage line have to be true?

JZ: Not necessarily. I'm sure Jay-Z didn't have exactly 99 problems! But he made the listener believe that he was an important guy who had no time for women. The most savage quotes straddle the fine line between fantasy and reality, with the bragger making you think it could be true.

ZA: clearly he wasn't too important for Beyonce, but then again I think we'd all have time for her.

JZ: Preach. What do you think about the line, "Whoever said money can't solve your problems / must not have had enough money to solve 'em." Every time I hear it, I cry a little on the inside.

ZA: that line was really good, but it isn't exactly a hard-hitting punch, you know? like it came in the middle of the verse and it doesn't exactly provoke a "DAAAMN she really said that?!" moment. the timing and placement of the line is as important as the lyrics itself.

JZ: Agreed! In battle rap, "punchlines" are showy, theatrical bars that directly target and attack the opponent. Audiences love punchlines. But they are first set up by several preceding lines, meant to build pressure and anticipation before the knockout blow. As savage as that Ariana line is, you're right – it does feel more like a set-up than knockout.

ZA: so basically, for a line to be savage it should be: (1) braggadocious, (2) natural, (3) aspirational, yet believable, and (4) impactful. sounds easy enough, right?

JZ: Let's do this. I'll throw one out there to start: "My wrist, stop watching, my neck is flossy." Delivered with a nice flow and rhythm, plus she's telling her haters that she knows they're jealous of her jewelry drip.

ZA: nah, it sounds just like any other rap line, flexing a shiny rolex and chains. now what about, "I bought a crib, just for the closet / both his and hers, I want it, I got it."

JZ: I like it. It's a big flex. It's wild but believable enough. I can actually picture Ari buying a house just for clothes. My only problem is that it's a two bar delivery, and the punch comes at the beginning. Also, the flow she's singing the line in is slow and drawn out, not really conducive to making an impact.

ZA: that's true. side note: she actually did buy a crib just for her pet pig, piggy smallz… if only she sang about that!

JZ: How about, "Write my own checks like I write what I sing"? Subtle shot at other artists who don't write their own songs.

ZA: i mean, i like that line but Soulja Boy might think differently…

JZ: YIKES. Moving on …

ZA: the line, "black card is my business card" is pretty savage, no? Ariana's showing off her super exclusive credit status, so it's both believable and natural.
JZ: Ariana for sure has a black card. So the line receives points for being true, but it's not like a crazy, super brag, especially in comparison to some of the other spectacular claims. Which also eliminates, "Happiness is the same price as red-bottoms", which is an even better line, and she also probably has a pair of Louboutin, but it's still not the MOST savage.

ZA: i think we've listened to this song on loop too many times and have gone through every lyric, there must be a perfectly savage line.

JZ: Wait … I got it …

ZA: are you thinking what i'm thinking?

JZ: "My receipts be lookin' like phone numbers ..

ZA: … if it ain't money, then wrong number."

JZ: TALK TO 'EM ARIANA.

ZA: instagram caption worthy.

JZ: Let's go through the criteria. Is it braggadocious?

ZA: my girl just said her total expenses look like a 10 digit phone number … HELL YES IT IS. what do you think about the delivery? the line just feels so natural.

JZ: Ari casually shuts down her broke haters like someone shuts down a telemarketer … "wrong number." ABSOLUTELY SAVAGE.

ZA: and even though she probably isn't spending a billion dollars at a time, the way she flaunts her expensive jewels and clothes in this song and online? a phone number probably isn't that far off from what her receipt totals actually look like.
JZ: And the line punches TWICE! The first half lands hard with the receipt simile. And then its followed up by Ariana saying don't talk to her unless it's about money?!
ZA: knockout.
JZ: I think we did it!
ZA: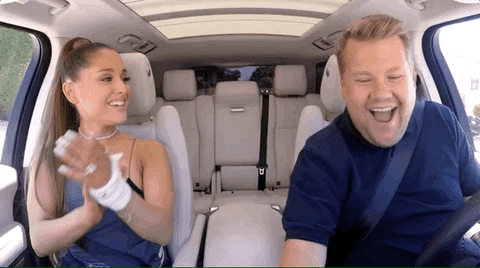 JZ: Thanks for doing this, it was super fun!
ZA: i gotchu! but now i gotta get back to class lol.
JZ: Looks like school is calling you.
ZA: wrong number.

---
"Been through some bad shit, I should be a sad bitch. Who woulda thought it'd turn me to a savage?"

Ariana Grande has always been a complex figure in my life.

We will always have a love-hate relationship – I often love to hate on her, but at the end of the day, I hate that I love her.

Following since her early days, Ariana's powerful voice immediately captivated me, and her bubbly personality won me over.

She represented a successor to my musical idols – Diana Ross, Aretha Franklin, Whitney Houston, Mariah Carey. Someone to take up the mantle of Queen of Soul and R&B.

Her debut album was phenomenal, talents on full display. From soulful vibes to catchy pop melodies to heartbreaking emotional ballads, Ariana's powerful voice was at the centre of it all.

And then, she went away from it.

She started introducing EDM and electronic sounds into her songs. She started relying on repetitive hooks. She started sounding like typical radio pop music.

Retrospectively, I understand the change. She had to widen her audience reach, while simultaneously evolving as an artist.

But at the time, I didn't like it. At all.

I remember actively boycotting her music at one point, something Zara could attest to.

But once in awhile, Ariana would drop a song that would remind me of why I was so infatuated with her music. She would showcase her voice and just simply sing.

It's taken some time for me to cope with the realization, that Ariana Grande will probably never become the figure I envisioned her to be.

I so badly wanted her to be the next Queen of R&B. I wanted beautiful ballads and sultry soul songs.

I wanted her to sing like a "sad bitch."

But that's not who Ariana is. And that's not who she's become.

She's making music how she pleases. She's doing whatever she wants. She's empowering people amidst all the hate and criticisms and backlash.

She's a pop princess.

She's a dangerous woman.

She's a savage.

So thank u, Ariana. Now show me what's next.