Welcome to my first official mailbag!
In addition to the "Things I Like" column, this is another segment I am looking to add to my blog.
As opposed to my weekly posts, where the subject matter comes from my own ideas, these mailbags will be audience-driven. I will be providing answers to questions submitted by readers through my website's mailing list. (Pssst … if you haven't already, sign up here.)
Whether the answers are stimulating and insightful or funny and useless is up for interpretation.
So, without further ado … my mailbag!

---
Q: Hi! I'm a huge fan of your blog, and love laughing out loud to your posts. Since you're an incredible (and hilarious) story teller, could you name your Top 3 favourite spots in Brampton and your fondest/funniest moment of each place?" — Anonymous
Wow, this is so exciting … my first ever mailbag question!
I'm glad to hear I make you laugh. To be honest, I'd laugh at me too, knowing I come from Brampton.
Ugh. Brampton.
The laughing stock of the GTA. The butt of every 6ixbuzz joke. The city local "Toronto" "rappers" are actually from.
(Noticed how I put both Toronto AND rapper in quotes? Yeah.)
If Toronto is New York City, Brampton is New Jersey.
If Toronto is 2007 Kanye West, Brampton is 2018 Kanye West.
If Toronto is Season 5 of Friends, Brampton is Joey: the spinoff series.
If Toronto is how you think you sound singing in the shower, Brampton is how you actually sound singing in the shower.
If Toronto is Steph Curry, Brampton is Just Curry.
From a surplus of immigrants who aren't quite in touch with Canadian culture, to gangster wannabes who believe they're from the hood when they're actually comfortably middle-class, Brampton is a curious (and hilarious) case of disconnected identity.
And yet, it is so easy to identify a person from Brampton.
The stereotypes are endless, and it seems that Bramptonians can't help but perpetuate the stereotype.
The city is full of bad drivers? Brampton has the highest rates of car insurance.
Brampton males are self-entitled and constantly spoiled by their parents? Check out these kids trash this basement for fun.
Brampton can't be taken seriously? When you elect this guy as mayor, how can it be?
Everyone loves to make fun of Brampton, because Brampton is so easy to make fun of.
That being said, I grew up in Brampton and, reluctantly, continue to call it home. There are several places I do have soft spots for.
Here are my Top 3 Favourite Spots in Brampton:
3. The CN Tower. This is my third favourite place in Brampton because it is not in Brampton.
2. Fallsview Casino. This is my second favourite place in Brampton because it is not in Brampton.
1. Casa Loma. This is my favourite place in Brampton because it is not in Brampton.
You thought I'd say something nice about Brampton? Well, jokes on you! Because Brampton's a joke.
---
Q: Do you think artists who write songs about ex-significant others could ever relate those songs to someone else? Or is the original muse all the artist will remember when they hear that song (ie. is it possible to separate the memories and feelings of one song [and transfer it] to another person)? — Katrina R. (@katweenie) & Hera (@sweatfettywap):
For people with some of the silliest Instagram handles I've ever seen, this is one hell of a deep question.
Before I answer this, I'm gonna set the mood and share some of my favourite songs written about a significant other.
"Day Dreaming"

Written about then-boyfriend Dennis Edwards of The Temptations, this is easily one of Aretha Franklin's most underrated songs. (Also: Don Cornelius' introduction is FREAKIN' EPIC).
"I'll Have to Say I Love You in a Song"
After getting into a disagreement with his wife Ingrid, Jim Croce spent the whole night writing this song. The next morning, he sang it to her to apologize. #GOALS
"Stacy's Mom"
About Stacy's mother, presumably.
Now that the mood has been set, let's tackle this question.
There are several factors that must be considered when evaluating if a song about an ex-significant other will maintain its memories and feelings once the relationship is over.
How did things end with the significant other?
The severity of the break-up, along with the consequences will dictate one's relationship with the song. The more emotional the breakup is, the stronger the connection to the song.
Whether it's regretful heartbreak or painful resentment, a forged connection (be it positive or negative) should result in a longstanding association between the song and the ex-lover.
What is the meaning and content behind the lyrics?
Is the song poetic? Does each line mean something? Do the words work to produce certain emotions?
"Sugar, Sugar" by The Archies is a catchy tune about a candy-like romance.
"Lemonade" by Jeremy Passion is also about a sweet-tasting substance.

Both have very different lyrics and thus different potential for emotional connection.
In "Sugar, Sugar", the subject is compared to candy, and the lyrics details how tasty and attractive they are. (ie. "You are my candy girl / And you've got me wanting you")
Whereas in "Lemonade", though the subject is being compared to lemonade, the lyrics detail how necessary they are to the singer's being. (ie. "Like a tall glass of lemonade / When it's burning hot on summer days / She's exactly what I need")
Similar sweet subjects. Different words and meanings.

How does the song sound?

Is it upbeat and pop? Is it a ballad? Maybe it's acoustic?
To make this point, here is the exact same song with the exact same lyrics, performed in different musical renditions:

Ignoring the fact that one version is sung by "siblings", and one version includes Zac Efron, there is a clear difference between each song's ability to evoke emotional connectivity.
This is determined by how each song sounds. Upbeat vs. slowed down. Rhythmic vs. melodic. Happy vs. sad sounding.
Also, Zac Efron.
How specific is the context of the song, in relation to the significant other?
The more specific a song gets, the less likely the artist or writer will be able to separate the previous memories and feelings from the song's subject.
In general, love songs or songs about a significant other can be expected to be quite targeted, especially since almost 100% of them refer to a directed and undisclosed "you".
However, some songs get even more specific, detailing a particular story or moment with the subject at hand.
My favourite Phil Collins song, "Against All Odds", is an emotional cry about his divorce. I would imagine it would be hard for him to hear this song and not associate it with that particular time of his life.
In an extreme case, Robin Thicke's album "Paula" is about his estranged wife. Can you guess her name? Invasive, creepy, and kinda sad, naming an album after someone is an easy way to make sure you remember who the songs are about.

With all this being said, I would answer that the memories of a person will always be associated with something created and intended for them.
It is the feelings behind the memories that will eventually fade away.
The emotions behind the art can cease to exist. But the art, once created, will live on forever. A reminder of something that was, but no longer is. And a chance for a new song to be sung.
Stacy's mom … I may no longer love you, but I'll never forget you.

---
In one of your previous posts, you linked to an article by Shea Serrano. What other writers do you admire and what work made you start following them? – Elijah L.
A reference to something I mentioned in an earlier article!? Someone's been doing their homework—shoutout to you, Elijah!

I wish I could give an artsy intellectual answer.
In an ideal world, my answer would be something pretentious like: "I love Hemingway—his Iceberg Theory and minimalist writing style really resonates with me" or "Tolstoy is the man. War and Peace, Anna Karenina … absolute classics!" or "1984 and Orwell are on the Mount Rushmore of modern literature, don't at me."
Nope.
I wish I could say my writing is inspired by the poets, bards, and titans of literature.
Nope.
Most writers I follow are sports journalists and blog writers.
What a millennial, am I right?!
The aforementioned Shea Serrano currently writes for The Ringer, a multimedia company. From Serrano to Jason Concepcion to Micah Peters to David Shoemaker, The Ringer is currently my go-to source for content on sports, music, movies, and any pop-culture related topic.
However, one writer in particular helped define my views on content consumption. The person who found The Ringer is the same authour who helped me find my writing voice.
Bill Simmons aka "The Boston Sports Guy" aka "The Podfather" is one of the most influential sports writers of the 21st Century.
Breaking away from traditional sports journalism, Simmons' laid back brand of writing is injected with pop-culture references, humour, expletives, and relatability. Rather than focusing on journalistic objectivity, Simmons analyzes topics using personal opinions and individual subjectivity. Quite shameless with his personal biases, Simmons is often criticized for being a "homer", heavily favouring his hometown team's (ie. Celtics, Red Sox, Patriots).
However, it's this focus on personality that made his writing stand out to me.
You know how when someone you know does something, and you're like, "Yup, that's totally something they would do."

Or when someone you know says something, and you're like, "Yup, that's totally something they would say."
Simmons so effortlessly injects his personality into his work that you can confidently say, "Yup, that's totally something he would write", as if he was a personal friend of yours.

"The Book of Basketball: The NBA According to the Sports Guy" was monumental to my understanding of storytelling and the development of my writing.
Before the book, I had rarely seen the use of swear words (and so casually) in print publications. Simmons wove it through his narrative so effectively, the book felt like stories being swapped over coffee or beers.
His opinions aren't meant to be taken as facts (no opinions ever should be), but I deeply connect to his messages and meanings because of how personally – and entertainingly – he presents and communicates them.
He changed the way I approached writing and how stories could be told. And I haven't looked back since.
---
Q: Two questions I have had on the brain considering how long we've known each other:
(1) With more and more Canadian Wrestlers being recognized for their work, where do you see the Canadian Wrestling Independence Scene in the next 5 years with promotions like Destiny and Superkick'd in the GTA?
(2) With the official announcement of AEW, who would you like to see go to the company and what matches would you book for Double or Nothing? — Albert A. (@asautencio)
2 questions? Too sweet.
Professional wrestling has a rich history in Canada. Before WWE's takeover of the territories, Canada had several major promotions, particularly in Calgary, Toronto, and Montreal.
Just like in every industry, Canada is home to elite-level talent. From legends like Bret Hart, to household names like Kenny Omega, to up-and-coming wrestlers like Joshua Alexander, there is no shortage of quality Canadian wrestlers.
Last month, I attended Destiny Presents: Carnage, the fifth iteration of the event. It was probably my most memorable independent show, headlined by elite-level talent such as UK Champion Pete Dunne, Mike Elgin, Tyler Bate, and even a special appearance by Santino Marella.
The night culminated with Pete Dunne dropping the Destiny championship to Joshua Alexander. Dunne cut a great promo to put the new champ over, even going as far to call Josh one of the "best unsigned talents in the world."

Every Destiny event I've been to has been spectacular.
Unfortunately, the north's wrestling scene will continue to face the same barriers that other Canadian performers face in their respective industries: the American market monopoly.
Regardless of their field, after a performer develops their skills and abilities, they will look to advance and move onto the next big stage. America is – more often than not – that next stage.
From young promising athletes to actors or stage performers, the opportunities granted by established platforms such as the NCAA or Hollywood and Broadway will always lure talent down south. Without large, secure, and — more importantly — profitable Canadian organizations, it will be difficult for Canada's best to remain and work in the country.
The market might be there, however; all the independent events I've been to have been sold out. But relying on ticket sales is not enough. Without the financial backing from large sponsors and without the audience reach of television networks, it is hard to see the Canadian wrestling scene evolve from talent fodder for larger promotions to legitimate competition to the WWE.
Looking towards other areas, perhaps Canadian hip-hop holds the blueprint to be followed.
After Drake permeated the pop scene as a legitimate superstar, thousands of hopeful rappers and artists started popping up across major metropolitans, most notably Toronto. Drake and the city's investment into putting a spotlight on these talented performers has helped grow local acts.
From Flow 93.5's "Made in Toronto" radio spotlight, to the premiere of "Bodied" at TIFF, to the expansion of OVO as a sound and record label, Canada's hip-hop scene is bigger and better than it's ever been.
The initial market break through (Drake's rise) was huge, but more important perhaps was the country's subsequent investment to help the product grow and its artists shine.
Taking Destiny Wrestling as an example: in order to avoid losing its talent to other competitors and establish itself as a legitimate brand, it must continue to put on high-quality events while attaining more sponsorships and partners, and figuring out a way to showcase its product to a larger audience.
The growth may be slow, but it can be done. Which leads to my answer for the second question …
All Elite Wrestling (AEW), the brainchild of Cody Rhodes and The Young Bucks, is poised to become WWE's biggest competitor since WCW.
AEW is a welcome addition to an industry the WWE has monopolized since the turn of the century. Its establishment has been quick and impactful, following a recipe for success. (Canada take note).
To borrow from the hip-hop comparison, Cody Rhodes is Drake. Since his departure from the WWE in 2016, his rise as the face of independent wrestling has been nothing short of meteoric. By re-inventing himself and putting on main-event matches in companies such as New Japan and Ring of Honor, Cody became a global star.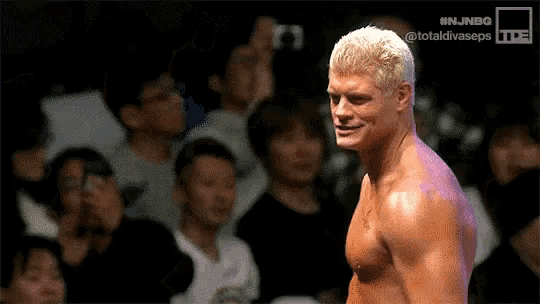 Springboarding off Cody and The Young Bucks' drawing power, commitment came from other popular independent wrestlers. Investment from Shad Khan (owner of an NFL and English Premier League team), provided financial means for the founding of AEW. And finally, a television contract is close to being completed.
The potential is limitless. As are the opportunities for dream matches.
It would be cool to see AEW sign wrestlers like Will Ospreay, Tessa Blanchard, Marty Scrull, Flip Gordon, performers previously linked to the company through ALL IN last September.
As well, with many rumblings about unhappy WWE superstars, I can picture several signings with the new promotion. Imagine AEW stealing away The Revival, Gallows and Anderson, Dolph Ziggler or any other disgruntled, misused talent. Since AEW is essentially a big middle finger to the WWE from Cody Rhodes, featuring former WWE talent in key matches would be perfectly on-brand.
With their next PPV, Double or Nothing, here are some matches I'd love to see happen:
Rusev & Dolph Ziggler vs. Joshua Alexander & Michael Elgin
Britt Baker vs. Tenille Dashwood vs. Gail Kim
PAC (aka Neville) vs. Will Ospreay
The Revival vs. The Young Bucks vs. Gallows and Anderson vs. Guerillas of Destiny
Sasha Banks vs. Tessa Blanchard
Dean Ambrose vs. Kenny Omega
Cody Rhodes vs. Chris Jericho
I'm all in.

---
Q: I would like to request that you write about people who made a big impact in your life. For example: somebody who could have influenced you to perform better, somebody who could have shown you what reality is all about, and/or someone who taught you what are the best things to achieve a satisfying life. – J.E.P.A.
Hi, J.E.P.A.
I'm convinced you asked this question because you wanted me to write about YOU.
WELL I'M NOT GONNA GIVE YOU THAT SATISFACTION.
Just joking.
But seriously, for entertainment's sake, I'm going to refrain from writing about people in my immediate family. (Sorry J.E.P.A.)
For this question, and I'll look at three different figures in my life, each fulfilling one of the criteria points stated.
1) Someone who influenced me to perform better.
Two words: Rocky. Balboa.
Whenever I'm in need of a quick burst of inspiration, I watch any of Rocky's famous training montages or motivational speeches.
The ultimate underdog, Rocky's story is one that anyone can relate to.
Rocky: He's a nobody. Rocky battles against doubt – from others, and from within.
Rocky II: He's a contender. Rocky battles against the demands of expectations
Rocky III: He's rich and famous. Rocky battles against the price of success.
Rocky IV: He's grieving. Rocky battles for pride, honour, and his country.
Rocky Balboa: He's old. Rocky battles against his legacy.
Creed. He's sick. Rocky battles to reignite the flickering flame of hope.
Creed II. He's alone. Rocky battles one of mankind's greatest fears: loneliness.
(You might have noticed that I skipped Rocky V. We don't speak of Rocky V.)
One of the greatest characters in cinematic history, Rocky Balboa is a champion that inspires everyone to perform better.
Except Tommy Gunn. Fuck that guy.
2) Someone who taught me the best things to achieve a satisfying life
Because I still feel like I didn't do Elijah's writing-based question the justice it deserved, I will use an authour and book to answer this one.
"Tuesdays with Morrie" by Mitch Albom is one of the most inspirational and empowering books I have ever read (shoutout Taz for introducing it to me!).
A real-life story about a student and teacher, this tear-jerker of a book had me stopping to contemplate life ever so often.
Inflicted with ALS, professor Morrie Schwartz refused to succumb to negativity, choosing instead to make the most of his final days. Imparting knowledge to his student Mitch over their scheduled Tuesday visits, readers alike are taught important lessons from a wise, old man at peace with his situation and satisfied with the life he lived.
Here are some greats quotes from Morrie:
"The most important thing in life is to learn how to give out love, and to let it come in."
"Once you learn how to die, you learn how to live."
"Invest in the human family. Invest in people. Build a little community of those you love and who love you."
"Learn to detach […] but detachment doesn't mean you don't let the experience penetrate you. On the contrary, you let it penetrate you fully. That's how you are able to leave it."
And finally, my favourite:
"In the beginning of life, when we are infants, we need others to survive, right? And at the end of life, when you get like me, you need others to survive, right? But here's the secret: in between, we need others as well."
How tragically beautiful the irony is of learning the most about life, when on the doorstep of death. Thank you, Morrie for teaching Mitch and the rest of us about a life well-lived.

3) Someone who has shown me what reality is all about.
If there's something I learned about life, it's that there's always something to learn about life.
Personal growth is the (slow) process of understanding yourself, others, and the world around you. This involves the shattering of previous (mis)conceptions and re-learning ideas you may have previously learned.
To be introduced to a reality of life suggests that one must be in a state of fantasy or false perceptions, prior to the life lesson.
As a young adult, we believe ourselves to be infallible, important, and invincible.
My dear Fr. Greg Haddock taught me better.
For all intents and purposes, Fr. Greg was a special individual.
He had many talents. Fr. Greg was a track star. He played the piano. He sang in choirs. He wrote for newspapers. Oh, and he was also a physicist that worked on the US Space Program in Washington and Boston.
As if that wasn't enough, he also helped anchor the Catholic Church throughout an entire country. Fr. Greg served as Regional Vicar for Canada of the Opus Dei Prelature for several years. He was also the chaplain for the first centre of Opus Dei in Toronto.
I was fortunate to work closely with Fr. Greg for several years. I served as his personal trainer, helping him stay active to combat his Parkinson's Disease.
Loving and warm, Fr. Greg was one of the humblest people I knew. I would have never known of his amazing accomplishments if not for prying them out of him, like an eager kid waiting to be read a night time story.
It is easy to think ourselves to be special, entitled to recognition and love.
Fr. Greg was a truly special individual. But what made him special was that he didn't believe himself to be special.
Rather, he chose to make others feel special.
I regret not doing all I could to tell Fr. Greg how special he was to me. And now that he's gone, I won't get that opportunity.
All I can do now is live out the lessons Fr. Greg spent his whole life teaching.

---
PHEW. Sorry for getting so emotional! Let's lighten things up with the last question of my first-ever mailbag …
not much, u?

---
Hope you enjoyed my inaugural Monthly Mailbag! Shoutout to all the e-mailers for the awesome questions. This was one of my favourite posts to write—the huge range of topics and styles made for a fun and challenging writing exercise. Thank you!
If you would like to submit a question for an upcoming mailbag, sign up for my e-mailing list and keep an eye out for submission e-mails.
Another reason to sign up for my newsletter: I'm looking to provide newsletter subscribers with … BONUS CONTENT! More on this later, but seriously, go sign up now!
Once again, thank you for reading and supporting my blog!